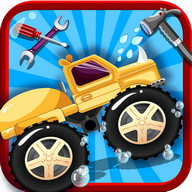 Monster Truck Wash- Messy Tire
서술
Monster Truck Wash- Messy Tire Android Game
Wash muddy, rustic and dirty heavy duty monster lorry in your service station
Monster Truck Wash is fun game for all age young kids and teens. Clean up dirty muddy heavy duty trucks with this Monster Truck Wash game. Start your service station for offroad vehicles engines and turn your trucks for some new look and feel. Give bath & get back from the muddy areas of rusty hop trails and other racing competition cars. It's all messy and the big truck bath wheels are all covered with mud, clean it with foam water sponge with soap lather. Don't you worry about its maintenance and car body? New cars mechanics has opened for tuneup and and launch a washing garage competition salon for big and heavy duty monster rusty trucks alloys skit.
All you need is to get move out your monster sized heavy duty car machinery to the washing station before you take out for rusty dirty car show. This is the best garage slot that offers a new monster washing station services lounge for free. Wash with Foam lather soap and water gun. Polish it with a wax coat over body and make it shinny. All the trainee people are coming to get the great experience. With trainee wash truck lounge game.
All types of vehicles are washed with bath soap and bubble lather to clean thoroughly to get your body paint shine back.
All the rims rust sponge washing lather soap are best combination of truck wash. See your glossy shinny and attractive huge size of wheels alloys here to become a big truck monster hero. Select your monster car vehicle to wash with your own choice to get the best wash out of it. Tune up your monster automobile and paint it in a way you like to do it. Tracks and competition are ahead so take care of your messy heavy truck alloys to perform into the muddy lounge situation. Choose the trucker type from Monster Rocker, Monster Digger, Monster Patrol car, and Monster Crusher to begin with washing. Use bathroom sprinkler tin the summer season and wash it with joy of Monster Truck nature. Forget about the toy trucks and other artificail harmful dangerous explosive trucks.
Modify the truck with your tires and rims customization Monster Truck. Use best colors to apply over the body workshop. Neat and tidy look and maintain the truck shop near washing station. Hey Washington! Pump up the rides and get washed now!! Go to the nearest laundry area

FEATURES:

1. THREE sets of Monster Machines for FREE
2. Various colors for body paint application Monster Truck competition
3. Tap & Drag the tool to hover over the body parts
4. Repair the tires and apply the your favorite alloys
5. Wonderful sounds merged with colorful GUI

정보
정보
너도 좋아할거야.:
안드로이드 게임 서비스는 PHONEKY에서 제공하며 100 % 무료입니다!
게임은 삼성, 화웨이, oppo, 생체 내, lg, xiaomi, lenovo, zte 및 기타 안드로이드 OS 휴대폰에서 다운로드 할 수 있습니다.
페이지 정보 :
귀하의 Andorid 기기에 게임을 Monster Truck Wash- Messy Tire 다운로드 - 무료로 제공되는 최고의 안드로이드 게임 중 하나! PHONEKY 안드로이드 게임 시장에서는 모든 휴대 전화 또는 태블릿 용 모바일 게임을 무료로 다운로드 할 수 있습니다. 멋진 그래픽과 중독성 게임 플레이는 오랫동안 즐겁게합니다. PHONEKY에서는 모험과 행동에서부터 논리와 레이싱 및 안드로이드 APK 게임에 이르기까지 다양한 장르의 다양한 게임과 앱을 찾을 수 있습니다. 무료 안드로이드 게임 및 앱을 휴대 전화, 태블릿 또는 컴퓨터에 다운로드하십시오. 안드로이드에 대한 톱 10 최고의 게임을보고, 그냥 인기 게임 정렬.
괜찮아