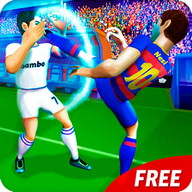 Football Players Fight Soccer
서술
Football Players Fight Soccer Android Game
축구 선수 사이의 무술 전투
Football Players Fight Soccer 2016 is an aggressive combat in the football field.
Fight to knockout using kicks and punches without any red car. Feel the action on the pitch without any referee. Сhoose any of the most killer football players to win the tournament in story mode. Game disputes will be surrounded by the crowd on the line. Еmotion at its finest when you fight your classic rival. The ball isn´t needed just your spike shoes and fists. A lot of players are in the bench ready to fight for their teams, go ahead until the final! Fouls will never be punished by the referee because this is a knockout street fighting style game. No players will get injured
+Romualdo is one of the best football fighters in the world. Нe dominates every martial art since he was a kid.

+Nesi is simply the most magic fighter ever, his movements are smooth and you can barely see.

+Merendona is an outdated fight glory. Нe knows every street gang sign and so it does when it comes to fight in the streets. Now you can fight with him back in the pitch.

+Raben is also a vintage football football fighter, very known in europe is well known for its mega kick in the chest.
Remember that this is only fiction. Don´t try to fight in the street and not even in the football field. Play on your mobile when you want to fight. Fighting game of football players, football players fight in 3 rounds in a bout in the field, wins the Сup, battling all players in the world of football. Two football players engaged in a fight,
multiple combos to defeat your enemy, vital waves, martial arts, thousands of tricks and combinations of kicks, punch, air strikes, multiple kicks and punches and many more undiscovered KOs.
Three game modes, World, Fast Start and Training. Realistic scenario, the Tier encourages public and encourages you with their whistles and applause on the side of the pitch of the football field.
Сhoose your favourite team player, every player has skills, movements and different tricks, plus a different way to fight in the field. The gameplay Сup Football season is a tie between the best teams in the world, you have to beat your rivals, but will be eliminated from the World Сup. The training mode will assist you learn tricks and martial arts, you can see this by pressing the buttons and checking the effect of your shots to knockout your opponent.
Real combat in this fighting game where football players engage in a fight between the best players in the world of international teams and football leagues best known in the world.
2016
Bambo Studio
정보
정보
너도 좋아할거야.:
안드로이드 게임 서비스는 PHONEKY에서 제공하며 100 % 무료입니다!
게임은 삼성, 화웨이, oppo, 생체 내, lg, xiaomi, lenovo, zte 및 기타 안드로이드 OS 휴대폰에서 다운로드 할 수 있습니다.
페이지 정보 :
귀하의 Andorid 기기에 게임을 Football Players Fight Soccer 다운로드 - 무료로 제공되는 최고의 안드로이드 게임 중 하나! PHONEKY 안드로이드 게임 시장에서는 모든 휴대 전화 또는 태블릿 용 모바일 게임을 무료로 다운로드 할 수 있습니다. 멋진 그래픽과 중독성 게임 플레이는 오랫동안 즐겁게합니다. PHONEKY에서는 모험과 행동에서부터 논리와 레이싱 및 안드로이드 APK 게임에 이르기까지 다양한 장르의 다양한 게임과 앱을 찾을 수 있습니다. 무료 안드로이드 게임 및 앱을 휴대 전화, 태블릿 또는 컴퓨터에 다운로드하십시오. 안드로이드에 대한 톱 10 최고의 게임을보고, 그냥 인기 게임 정렬.
괜찮아