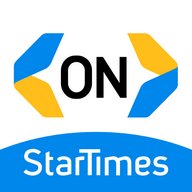 StarTimes - Live TV & Football
서술
StarTimes - Live TV & Football Android APP
무료 라이브 TV, 라이브 축구, 축구 하이라이트, 최신 영화 등을 따라 잡기
StarTimes ON is Africa's leading video streaming service for watching live TV, TV episodes, movies, live sports and TV shows on your phone
. Over 13million users worldwide have installed the app, which offers the best video watching experience anywhere, anytime. Get the free App and you can instantly watch thousands of international TV series, Hollywood blockbusters, local TV shows, latest breaking news and the most anticipated football match. Plus, with tons of children content, your kids are gonna love StarTimes ON as well.
Recently super popular TV drama: The Queen of Flow, now download and free to watch full episodes for unlimited times
StarTimes ON Key Offerings:
⚽LIVE FOOTBALL
Live football match has been one of the best offerings of StarTimes ON, including, Europa League, Bundesliga, Ligue 1, Uganda Premier League, 2020 European Cup and the qualifiers, 2020/21 UEFA Nations League, FIBA Basketball World Cup China 2019, the 2022 Qatar World Cup European qualifiers, the European national team friendly match, FIBA Women's AfroBasket Senegal 2019 , Italian Cup and French League Cup.
?LIVE TV
StarTimes ON offers you more than 180 channels from breaking news, live TV shows, soccer match, kids programs, dramas and series to movies. Get the app and watch them ALL.
?MOVIES
Get StarTimes ON and watch 2500+ high quality movies for FREE. From Nollywood to Hollywood, from Kong Fu to local dramas, StarTimes ON is covering all different types of movies like action, sci-fi, comedy, thrill, romance and horror. Get the app and watch them all.
Watch classic Kung Fu movies from Jacky Chen and Bruce Lee's exclusive on StarTimes ON.
? DRAMAS
StarTimes ON is committed to offer you the best entertainment. Therefore, we've been collecting the best dramas from the whole world. Asintado, Wild Flower, Waaris, Be My Lady, Double Kara, The Blood Sisters and more. Only available on StarTimes ON.
?TV SHOWS & NEWS
StarTimes ON also creates popular reality shows, including Hello, Mr, Right and Voice to Fame. With our app, you can also be updated with the latest news from both local and international news channels, including Bukedde TV News, France 24 News, Kenya News, BBC World News, Nigeria News and Africa News. The only step between you and the whole world is the app! So, what are you waiting for? Install it right away to enjoy the hottest news and always stay informed. 180+ channels are available on StarTimes ON.
?SHORT VIDEOS
We are thrilled to announce our new category called Short Videos, Where you can watch the most popular videos that went viral on the Internet. Funny cats & dogs, cute babies, crazy stunts, magic, cringe falls, hot ladies…
? KIDS
StarTimes ON is a family-friendly app. Your kids can also enjoy the best cartoons from worldwide, like Kung Fu Panda, SpongeBob and Bonnie Bears. We only pick the high quality and educational kids programs, so that your little ones can learn and enjoy in the same time.
Extra features:
1.400+ TV Guides. You can set up a reminder for your favourite football match, shows and movies.
2. Easy self-service to link your smart card, pay and top-up the bill with few taps. More importantly, 5% off only available on the App.
3. Share the app with your friends, earn enough coins and then exchange gifts.
Follow us on Facebook www.facebook.com/StarTimesON
StarTimes ON is a true leading digital entertainment provider in Africa.
Install StarTimes ON Right NOW!
정보
정보
너도 좋아할거야.:
안드로이드 앱 서비스는 PHONEKY에서 제공하며 100 % 무료입니다!
앱은 삼성, 화웨이, oppo, 생체, lg, xiaomi, lenovo, zte 및 기타 안드로이드 OS 휴대폰에서 다운로드 할 수 있습니다.
페이지 정보 :
Andorid 휴대폰에 StarTimes - Live TV & Football 응용 프로그램을 다운로드하십시오. - 무료로 최고의 안드로이드 앱 중 하나! 당신은 확실히 그 매혹적인 기능을 즐길 수 있습니다. PHONEKY 안드로이드 apps store에서 모든 휴대 전화 또는 태블릿 용 무료 풀 버전 모바일 앱을 무료로 다운로드 할 수 있습니다. 이 응용 프로그램의 유용하고 유용한 기능은 당신이 아주 오랫동안 사로 잡혀있을 것입니다. PHONEKY에서는 교육 및 엔터테인먼트에서 보안 및 탐색 안드로이드 앱에 이르기까지 다양한 장르의 다양한 앱과 게임을 찾을 수 있습니다. 무료 안드로이드 애플 리케이션을 안드로이드 OS 휴대폰, 태블릿 또는 컴퓨터에 다운로드하십시오. 안드로이드에 대한 상위 10 위의 앱을 보려면 앱을 인기순으로 정렬하십시오.
괜찮아